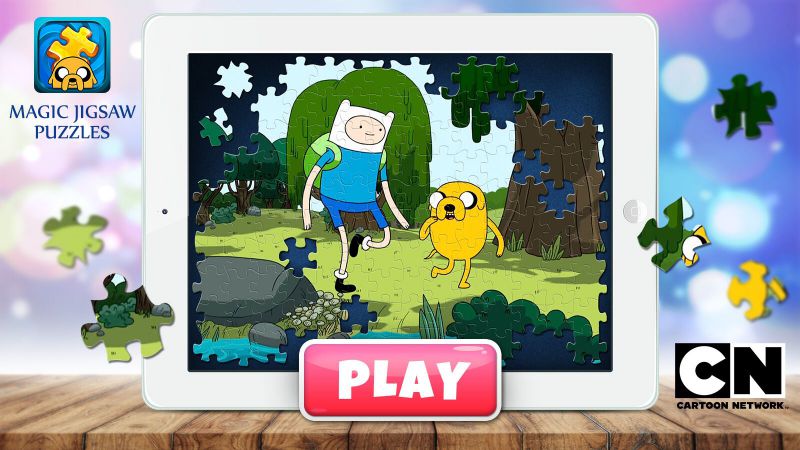 Fans of the network can now interact with their favorite shows including Adventure Time and Steven Universe in a unique way through the Magic Jigsaw Puzzles mobile game.
SAN FRANCISCO, January 18, 2018 – ZiMAD, an international game developer, has signed a partnership with Cartoon Network to bring content from the network's most beloved series to Magic Jigsaw Puzzles, the premiere digital jigsaw puzzle mobile game.
The initial roll-out of content will consist of puzzle packs from five shows including Adventure Time, The Amazing World of Gumball, Steven Universe, Ben 10 and The Powerpuff Girls which will appeal to a wide range of Cartoon Network fans.
"Great imagery is what keeps our players engaged and by partnering with top media companies like Cartoon Network, we will continue to be the leading mobile jigsaw game by providing the largest and highest quality content library," said ZiMAD CEO Dmitry Bobrov. "Beyond giving our current players great new content, we are excited to give Cartoon Network fans a new, unique way to enjoy their favorite shows."
As many current Magic Jigsaw Puzzles players are parents, the new partnership will provide even more options for their children to enjoy the game. Puzzles will range in size from 12-630 pieces, providing levels of difficulty for the whole family.
ZiMAD has already signed deals with major media enterprises National Geographic and Sony Pictures in the last two years. The addition of Cartoon Network will help bring a younger audience to the game by using some of the most recognizable cartoons on the planet. It also makes the game more appealing to the entire family with puzzles now suited for every age range and skill level.
Fans can look forward to additional content featuring even more Cartoon Network shows to premiere on Magic Jigsaw Puzzles in the coming months.
About ZiMAD Games
San Francisco based company, ZiMAD is an international developer and publisher of games for all major mobile platforms, social networks and desktop. The company's portfolio includes Magic Jigsaw Puzzles, Bubble Birds and Dig Out!
About Magic Jigsaw Puzzles
Launched in 2011, Magic Jigsaw Puzzles is the premier jigsaw puzzle app on iOS and Android devices, also available on Amazon, Facebook and in the Microsoft Store. With 50 million downloads and billions of puzzles solved, Magic Jigsaw Puzzles' continues to challenge players by providing a constant stream of new content though fresh puzzle packs and licensing agreements with iconic brands.
About Cartoon Network
Cartoon Network is Turner's global entertainment brand and the # 1 animation network in the U.S., offering the best in original content for kids and families with such hits as, Adventure Time, The Powerpuff Girls, Steven Universe, We Bare Bears and The Amazing World of Gumball. Seen in 192 countries and over 400 million homes, Cartoon Network is known for being a leader in innovation with its approach to engaging and inspiring kids at the intersection of creativity and technology. Its pro-social initiative, Stop Bullying: Speak Up is an acknowledged and often used resource for kids and adults looking for tools that can assist in dealing with the ongoing issue of bullying.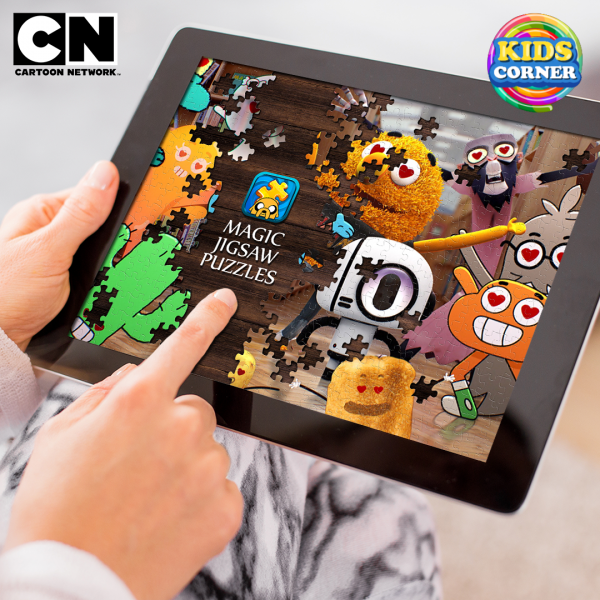 Cartoon Network is part of Turner, a Time Warner company that creates and programs branded news, entertainment, sports, animation and young adult multi-platform content for consumers around the world. Turner brands and businesses include CNN/U.S., HLN, CNN International and CNN.com, TBS, TNT, TCM, truTV, Cartoon Network, Boomerang, Adult Swim, Turner Sports, Bleacher Report, iStreamPlanet and ELEAGUE.
Media Contacts:
Maria Neumiarzhytskaia
maria.neumiarzhytskaia@zimad.com
(O): (415) 222 – 9909 (M): +375295558630