This is a translated version of an article originally published on dtf.ru
How to increase ROAS and protect the marketing budget
Mobile games market overview
"Games" is the most popular and the most downloaded app category. 

Mobile games occupy the leading positions not only in terms of the number of downloads and money spent by users within apps but also in terms of gaming industry advertising budgets. And if there's money, there are going to be scammers. Let's take a closer look at the way ZiMAD deals with fraud (a type of scam involving buying advertisement and user engagement) and what we have accomplished. 
Starting January 2019, our company switched to using an anti-fraud solution Scalarr, which is based on machine learning and Big Data.
How the fraud changed overtime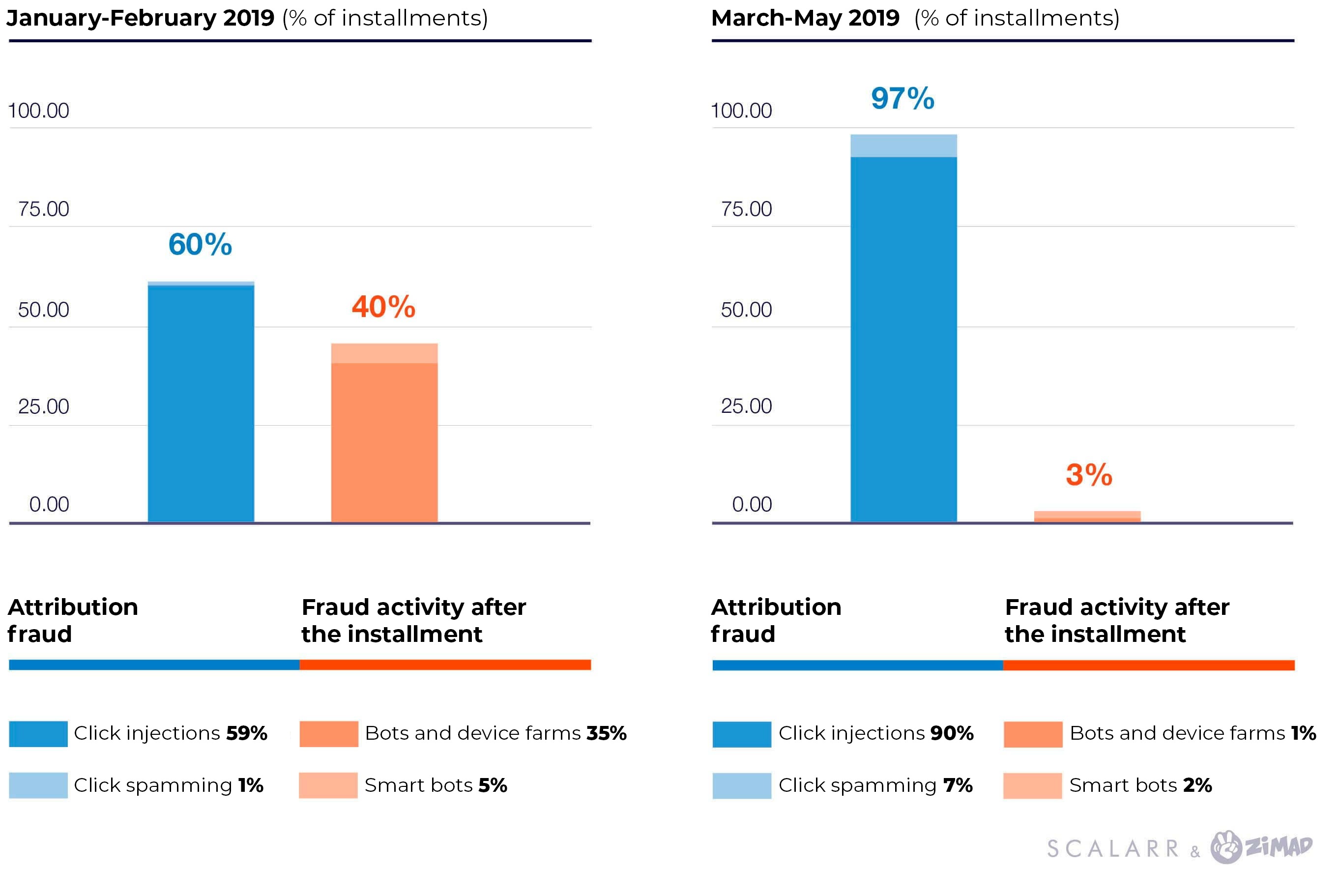 Over the course of the next three months of our partnership, the anti-fraud Scalarr solution detected 151000 fraud installments, of which 95% have to do with different types of attribution fraud: click spam, click injections. Bots and device farms stood at 3%, smart bots that emulated the game level progress and even made fake purchases in the app — at 2%.
89% of the attribution fraud had to do with click injections. In this case, the scammers used click injections to make their traffic more realistic. And, hence these are stolen organic installments that tend to imitate real users, the scammers reduce the risks. 
The Scalarr anti-fraud solution quickly detected fraud, didn't matter how much and how fast the scammers changed their schemes. Thanks to Scalarr we allocated our marketing budget for the sources much more reliable than the previous ones, which also helped engage real users.

Alexey Tishakov, Head of User Acquisition, ZiMAD
The results

In the first three months the results of Scalarr traffic analyzing showed that 60% of the found fraud was attributional, and the remaining 40% consisted of fraud events occurring after the initial installment (event emulations, game level progress, making purchases and so on). After that our team carried out an optimization of the channels and traffic sources by shutting down the sources with a big percentage of fraud. But even if we shut down any fraud sources we can't be sure that fraud won't re-appear, because it's a cyclic phenomenon and requires constant checking. As seen on the chart, the number of bots in the next three months was lower, but at the same time, the percentage of click injections was growing.
In conclusion
Thanks to Scalarr's personalized machine learning model, ZiMAD manages to prevent three times as many fraud installments as we were preventing while using compared the previous rule-based anti-fraud solution;

After using the solution for three months we detected 151000 fraud installments, and shutting them off saved our company up to $80000;

89% of fraud consisted of click injections. The majority of it was found in motivated traffic purchase campaigns, where the CPA rate is valued up to $100;

We also found "smart" bots in the motivated traffic. The scammers emulated installments, level progress, and even in-app purchases by requesting refunds. These events were emulated in abnormal quantities. Up to 100% of the paid events in abnormally short periods of time, which is not typical of real users.
About Scalarr
Scalarr is a SaaS solution for dealing with mobile fraud based on machine learning and big data algorithms. Scalarr instruments analyze clicks, installments and after-installment events. It finds all types of attribution fraud: click spamming, click injection, ad stacking, device farms, bots and "smart" bots, mixed fraud, CPA fraud and many more types of fraud. 
Scalarr works with app developers and brands in CIS countries, North America, Europe, Asia, and Australia. Among the Scalarr clients are such companies as ZiMAD, Joom, Pixonic, Auto.ru, Huuuge Games, MobilityWare, Draftkings. The Scalarr headquarters are located in Wilmington, DE, and the company has offices in San-Francisco, Kharkiv, and Kyiv.